lds.org
It has interested me recently that when the angel appeared to Alma the Younger (
the first time, Mosiah 27:16
) when he was rebelling against his father and the church that the angel instructed him to remember the captivity of his fathers in the land of Helam. I asked myself this question, "Why were those his instructions? What was it about this part of his history that would be instructive to Alma the Younger or convince him of the error of his ways?"
In
Alma 5
, we read where Alma the Younger explains the importance of changing our hearts and evaluating our behaviors in light of the teachings of the gospel. He uses the example of 'the captivity of his fathers in the land of Helam' to teach this doctrine and at the end, he testifies to their truths because of his own effort and spiritual experience. Then in
Alma 36
, he shares his personal account of the experience with the angel and his change of heart with his son, Helaman.
I am sure there is more that I can learn from studying these three chapters of the Book of Mormon together than I am going to expound here on the blog. But as I was pondering about the physical bondage the people of the land of Helam were in because of their original disobedience to the laws of God and particular instructions from the prophet Abinadi (understanding of course that these were the people who were actually repenting from the ways of their wicked King Noah and trying to do what they were instructed to do.....yet the scriptures say, "Nevertheless the Lord seeth fit to chasten his people; yea, he trieth their patience and their faith..."
Their original story here, Mosiah 23
.), I wondered if there was a parallel to spiritual bondage due to sin.....?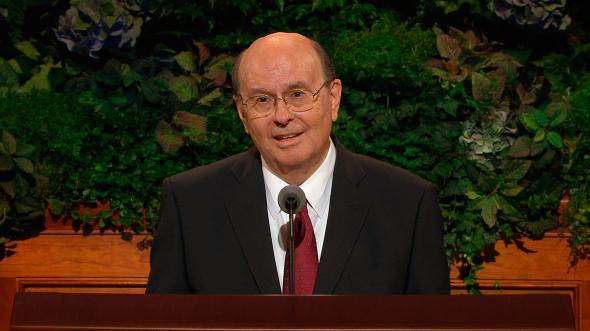 Of course,
Elder Cook
expressed those very thoughts in General Conference at the beginning of this month:
God intended that men and women would be free to make choices between good and evil. When evil choices become the dominant characteristic of a culture or nation, there are serious consequences both in this life and the life to come. People can become enslaved or put themselves in bondage not only to harmful, addictive substances but also to harmful, addictive philosophies that detract from righteous living.
Turning from the worship of the true and living God and worshipping false gods like wealth and fame and engaging in immoral and unrighteous conduct result in bondage in all its insidious manifestations. These include spiritual, physical, and intellectual bondage and sometimes bring destruction. Jeremiah and Lehi also taught that those who are righteous must help the Lord establish His Church and kingdom and gather scattered Israel.8
These messages have echoed and been reinforced across the centuries in all dispensations. They are at the heart of the Restoration of the gospel of Jesus Christ in this, the final dispensation.
Then, I pondered about the captivity and bondage of my fathers (meaning negative behaviors that have been passed down through the generations). For my family, tobacco use, divorce, blaming others, alcoholism, child sexual abuse, immorality, negative thinking, and depression, to name a few. All of these things are spiritual and physical things which put succeeding generations in bondage and keep them from feelings God's love and sharing that love with others. (Thought question: What behaviors from your fathers are inhibiting your ability to feel His love in your life or sharing that love with your children and others?)
In our lives,

we do not have to remain bound by the chains of our fathers or to pass them onto our children. But our freedom, comes with a price----obedience to the laws of God.
As we begin to exercise obedience to the laws of God, through our faith, our loving Father in Heaven will bless us with knowledge and testimony. That testimony, coupled with our continued obedience, over time, and through our trials will continue to sustain us until our hearts are converted, and we can share His love and knowledge with succeeding generations who never have to begin the process with the chains which bound their fathers. (For scriptural examples over time, read the chapters linked above about Alma the Elder and Alma the Younger through Alma the Younger's comments to his sons.)
Comments from Elder Cook's address:
We learn valuable lessons from this tragic period.
(Scattering of the Twelve Tribes of Israel.)
We should do everything within our power to avoid the sin and rebellion that lead to bondage.13 We also recognize that righteous living is a prerequisite for assisting the Lord in gathering His elect and in the literal gathering of Israel.
Bondage, subjugation, addictions, and servitude come in many forms. They can be literal physical enslavement but can also be loss or impairment of moral agency that can impede our progress. Jeremiah is clear that unrighteousness and rebellion were the main reasons for the destruction of
Jerusalem
and captivity in
Babylon
.
14
Other kinds of bondage are equally destructive of the human spirit. Moral agency can be abused in many ways.
15
Each new generation must choose for themselves what they believe and if they will continue their spiritual legacy of obedience.
One of the ideas Wallerstein espouses in her book The Unexpected Legacy of Divorce, is that children who come from intact families (not divorced) and have a history of intact families (parents are not divorced, grandparents are not divorced, etc...) benefit from a social, emotional, financial pooling of resources over generations. That is, the more succeeding generations of intact families the more resources then are available for the children in the present family. They benefit from an accumulation of resources over the generations. The same idea is true in our spiritual growth and development.
Each succeeding generation who chooses to be obedient and exercise faith, over time and trial, the greater spiritual resources and teaching which are available to the current generation of growing children. Each generation builds on the previous generations work and effort, thus the current generation begins ahead in their spiritual development of the previous generations.
My parents and grandparents were just beginning to learn the spiritual doctrines which would set my generation free from the spiritual bondage of our fathers. My mother's family joined the church when she was five. My father joined the church when he met and married my mother and his mother joined shortly after that. Some, a few of my aunts, chose obedience. Because of those choices, their children and grandchildren who have also chosen obedience, enjoy a deeper, richer spiritual life. My parents did not chose consistent obedience over time. As such, their children are left to wander spiritually. No loving parent wants their children to wander spiritually.
I have some other thoughts on the subject, but I'm going to save them for another blog post....maybe
tomorrow :-)