veooz.com
I have loved watching the Olympics over the last few days. Watching the athletes put their practice, endurance, and skills on the line for everyone to see in competition with others who have trained just as hard is amazing and heartbreaking to observe. What really touches my heart, of course, are the stories behind the performances. For instance, I loved hearing how Noelle Pikus-Pace had retired, stopped competing, began her life after her sport and then with her family decided that maybe she had one more Olympic appearance in her. Sometime before retirement, she was hit by a four man bob-sled, broke her leg and had to recuperate, rebuild, and retrain. In the interim between retirement and her return, she had a baby and a miscarriage. When she finished this year, she came away as the silver medalist and was so excited she climbed off of the track and into the stands to hug her family and celebrate her victory, all the while repeating, "We did it! We did it!"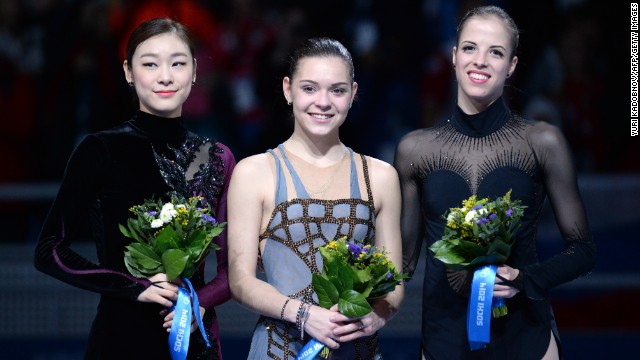 cnn.com
I particularly like women's figure skating. Last night I watched Adelina Sotnikova skate for Russia's first gold medal in women's figure skating and beat out the reigning gold medalist from 2010 Yuna Kim of Korea. Their skating was beautiful. Each competitor had their own story. One skater had lost her mother in the last several years (Mao Asada of Japan, placed 6th) and was skating for her. The bronze medalist, Carolina Kostner from Italy had disastrous performances in two previous Olympics. Her mother told her to enjoy her skating and show the people why she loved it. All the commentators could say was how much different her skating was this year compared to any other performances, and she walked away with Italy's first medal in women's figure skating.
As I watched these amazing athletes perform for the world, it hit me. We all have medal stories. We may not be world-class athletes. We may be completely unknown and anonymous. Maybe no one knows our medal story. But if you think about it long and hard enough, I bet you have one. You should think about putting it on paper so your posterity can read them and gain faith and strength from your example.
Mine would go something like this:
Carin was born the oldest of six children. Her parents were sealed in the temple just months before she was born. As the family grew and stress increased, so did marital dissatisfaction. By the time Carin was 14 the family did not attend church very often. Finally at 18, her parents divorced leaving her and her siblings (ages 16, 14, 13, 10, and 9) wondering what that meant for their lives, who they were, and how their parents felt about them.
Carin was able to leave the situation and attend Brigham Young University for a year and a half before she married her sweetheart, Drew. Carin and Drew determined they never wanted divorce to be a part of their lives. They agreed never to mention the 'D' word as a means to solve their problems. Over the next seven years and four children, she finally finished her degree in Family Sciences. During that course of time, her oldest son perforated his bowel at a month old, almost died on the operating table, and had a colostomy for 2 and 1/2 years. His medical issues required 4 major abdominal surgeries and 7 minor reconstructive surgeries. Two weeks after the birth of their second child, they found a heart murmur which, thankfully, did not require surgery but did include many doctor visits and a year's worth of medication. During these years, she was only able to take 6 credit hours a semester, taking off a semester each time she delivered her sons, #3 and #4.
After 8 years in Provo, UT Carin and her family were finally able to begin to make ends meet financially. It was at this point, they were asked to leave. They knew their destination was northern California but knew no one there and didn't have any connections. They looked for a job for two years before finally finding one. Unfortunately it paid only 1/2 of what they had been making in Utah. Knowing that we are counseled to be financially independent, and also knowing that their destination was the Lord's desire, Carin and her Drew prayed with faith to be able to make the move. She cut a deal with the Lord. She would go, if He would guarantee that she would not have to enter the workforce to make their finances meet. She was unwilling to go if the children would be placed in daycare. After 10 years in Provo, they made the move, while 20 weeks pregnant with their fifth son.
Northern California would prove to be a fertile ground for growth. The years were lean and hard. Carin and Drew learned first hand how to handle persecution both from within and without of the church. Though they were surrounded by people, sometimes with friends, they learned how to gain strength from one another and to rely on their faith and their family: husband, wife, and children. They continue to reside in Northern California where they have added four sons and one daughter to their family.
After 24 years of marriage, Carin and Drew have six children remaining at home. Three of their nine have served or are serving missions. Three are in college. Three have degrees with a fourth graduating this coming May. The others have plans for colleges and missions. We will watch closely as their post Olympic story unfolds.
Dec 2012, Spanky serving his mission in Orlando, FL
Success? Well, there is still a lot of story to write and time to unfold. But I do believe there is success in our effort. We have overcome many, many obstacles, set-backs, disappointments, and heart-ache (all of which have not been shared). I am sure we will experience many, many more.
I know if you take a long and real look at your life and what you have accomplished, you will see your own Olympic medal story, because that is why we are here, to learn to have our own
'Happily Ever After.'
And here is the best part, if you don't like your story or think it isn't inspiring or motivating, you can work to change it----today. You can change the direction you are headed and make a fresh start and create your own happy ending. What are you waiting for?? Go write it down!!